The Effects of a Health Behavior Promotion Program on Gestational Diabetes Mellitus Among Pregnant Women with Potential Risks
Keywords:
health behavior promotion program, gestational diabetes mellitus, pregnant women with potential risks
Abstract
There are a limited number of studies related to the promotion of health behaviors among pregnant women with potential risks for gestational diabetes mellitus (GDM) in Thailand. This randomized controlled trial aimed to investigate the effects of a Health Behavior Promotion Program (the HBPP) on health behavior and the incidence of GDM among pregnant women at potential risk for GDM. Participants were 108 pregnant women meeting the selection criteria, who were assigned to either the comparison or experimental group using stratified randomization with random permuted blocks within strata. The comparison group (n = 53) were provided with standard care, while the experimental group (n = 55) were provided with standard care and participated in the HBPP. Data were collected by using their demographic records, the Health Behavior of Pregnant Women with Potential Risks of GDM questionnaire (α = .83), and their clinical information records. The data were analyzed by using descriptive statistics, chi-squares, and t-tests. The results revealed that, after participating in the program, the mean score for the overall health behaviors of the pregnant women had increased statistically and significantly, t(54) = 12.213, p < .001, d = 0.88. The participant group's mean score was also higher than that of the comparison group's mean score, t(106) = 4.861, p < .01, d = 0.86. Moreover, we found that the women who had participated in the program had a statistically significant higher ratio of having adequate weight gain during pregnancy than the comparison group, X2(1, N = 108) = 3.077, p = .039 and a lower ratio of incidence for GDM, X2(1, N = 108) = 4.102, p = .021. In conclusion, the HPBB enhances appropriate health behavior among pregnant women with potential risks for GDM and adequate weight gain, while reducing the incidence of GDM. Therefore, employing the program for this group of pregnant women is recommended.
Downloads
Download data is not yet available.
References
ทิศนา แขมมณี. (2554). ทฤษฎีการเรียนรู้แบบร่วมมือ: ศาสตร์การสอนองค์ความรู้เพื่อการจัดกระบวนการเรียนรู้ที่มีประสิทธิภาพ. กรุงเทพมหานคร: จุฬาลงกรณ์ มหาวิทยาลัย.
ธรรมพจน์ จีรากรภาสวัฒน์. (2559). โรคเบาหวานขณะตั้งครรภ์ (Gestational Diabetes Mellitus). สืบค้นจาก http://www.med.cmu.ac.th/dept/obgyn//index.php?option=com_ content&view=article&id=1197gestationaldiabetes-mellitus&catid=45topicreview&Itemid=561
นัจภัค มีอุสาห์. (2557). การจัดการเรียนรู้แบบสาธิต. สืบค้นจาก http:// www.mct.rmutt.ac.th/km/?p=1427
ปิยะนันท์ ลิมเรืองรอง, ดิฐกานต์ บริบูรณ์หิรัญสาร, อภิธาน พวงศรีเจริญ, และอรวรรณ พินิจเลิศสกุล. (2559). ปัจจัยที่มีอิทธิพลต่อการเกิดภาวะเบาหวานขณะตั้งครรภ์ในสตรีตั้งครรภ์ที่ Glucose Challenge Test ผิดปกติ. วารสารพยาบาลศาสตร์, 34(2), 58-69.
ประภัทร วานิชพงษ์พันธุ์. (2560). บทบาทพยาบาลในการดูแลหญิงตั้งครรภ์ที่มีภาวะเบาหวานขณะตั้งครรภ์. กรุงเทพฯ: พี.เอ.ลีฟวิ่ง.
ราชวิทยาลัยสูตินรีแพทย์แห่งประเทศไทย. (2555). การตรวจคัดกรองเบาหวานในสตรีตั้งครรภ์. แนวทางเวชปฏิบัติของราชวิทยาลัยสูตินรีแพทย์แห่งประเทศไทย. 169-184. สืบค้นจาก http://www.rtcog.or.th/home/cpg/1380/
ราตรี พลเยี่ยม, และสมพร วัฒนนุกูลเกียรติ. (2558). ผลของโปรแกรมการให้ความรู้อย่างมีแบบแผนตามความเชื่อด้านสุขภาพต่อพฤติกรรมสุขภาพของหญิงตั้งครรภ์ที่มีปัจจัยเสี่ยงต่อโรคเบาหวานขณะตั้งครรภ์. วารสารวิทยาลัยพยาบาลบรมราชชนนีนครราชสีมา, 22(1), 77-92.
Becker, M. H., Maiman, L. A., Kirscht, J. P., Haefner, D. P., & Drachmman, R. H. (1977). The health belief model and prediction of dietary compliance: A field experiment. Journal of Health and Social Behavior, 18(4), 348 – 366.
Carolan, M., Davey, M. A., Biro, M. A., & Kealy, M. (2012). Maternal age, ethnicity and gestational diabetes mellitus. Midwifery, 28(6), 778–783.
Cho, G. J., Park, J. H., Lee, H., Yoo, S., Shin, S. A., & Oh, M. J. (2016). Pre pregnancy factors as determinants of the development of diabetes mellitus after first pregnancy. The Journal of Clinical Endocrinology and Metabolism, 101(7), 2923–2930.
Erem, C., Kuzu, U. B., Deger, O., & Can, G. (2015). Prevalence of gestational diabetes mellitus and associated risk factors in Turkish women: The Trabzon GDM Study. Archives of Medical Science, 11 (4), 724-735.
Farrar, D., Simmonds, M., Bryant, M., Lawlor, D. A., Dunne, F., Tuffnell, D., . . . Sheldon, T. A. (2017). Risk factor screening to identify women requiring oral glucose tolerance testing to diagnose gestational diabetes: A systematic review and meta-analysis and analysis of two pregnancy cohorts. PLoS ONE, 12(4), e0175288.
Grewal, E., Kansara, S., Kachhawa, G., Ammini, A. C., Kriplani, A., Aggarwal, N., . . . Rajesh, K. (2012). Prediction of gestational diabetes mellitus at 24 to 28 weeks of gestation by using first-trimester insulin sensitivity indices in Asian Indian subjects. Metabolism Clinical and Experimental, 61(5), 715-720.
International Diabetes Federation. (2017). World diabetes day 2017. Retrieved from https://www.idf.org/youngleaders/leaders/profile/218?language =zh-hans
Kanthiya, K., Luangdansakul, W., Wacharasint, P., Prommas, S., & Smanchat, B. (2013). Prevalence of gestational diabetes mellitus and pregnancy outcomes in women with risk factors diagnosed by IADPSG Criteria at Bhumibol Adulyadej Hospital. Thai Journal of Obstetrics and Gynaecology, 21(4), 141-149.
Khiyali, Z., Manoochri, M., Jeihooni, A. K., Heydarabadi, A. B., & Mobasheri, F. (2017). Educational intervention on preventive behaviors on gestational diabetes in pregnant women: Application of health belief model. International Journal of Pediatrics, 5(5), 4821-4831.
Koivusalo, S., Rono, K., Klemetti, M. M., Roine, R. P., Linndstrom, J., Erkkola, M., . . . Beata, S. L. (2016). Gestational diabetes mellitus can be prevented by lifestyle intervention: The Finnish gestational diabetes prevention study (RADIEL). Diabetes Care, 2016(39), 24-30.
Kolu, P., Raitanen, J., Rissanen, P., & Luoto, R. (2012). Health care costs associated with gestational diabetes mellitus among high-risk women – results from a randomized trial. Retrieved from http://www.biomedcentral.com/1471-2393/12/71
Lee, J., Ouh, Y., Ahn, K. H., Hong, S. C., Oh, M. J., Kim, H. J., . . . Cho, G. J. (2017). Preeclampsia: A risk factor for gestational diabetes mellitus in subsequent pregnancy. PLoS ONE, 12(5), e0178150.
O'Dwyer, V., Farah, N., Hogan, J., O'Connor, N., Kennelly, M. M., & Turner M. J. (2012). Timing of screening for gestational diabetes mellitus in women with moderate and severe obesity. Acta Obstetriciaet Gynecologica Scandinavica, 91(4), 447-451.
Plasencia, W., Garcia, R., Pereira, S., Akolekar R., & Nicolaides, K. H. (2011). Criteria for screening and diagnosis of gestational diabetes mellitus in the first trimester of pregnancy. Fetal Diagnosis and Therapy, 30(2), 108-115.
Wang, S., Ma, J. M., & Yang, H. X. (2015). Lifestyle intervention for gestational diabetes mellitus prevention: A cluster-randomize controlled study. Science Direct, 2015(1), 169-174.
Wendland, E. M., Torloni, M. R., Falavigna, M., Trujillo, J., Dode, M. A., Campos, M. A., . . . Maria, I. S. (2012). Gestational diabetes and pregnancy outcomes – a systematic review of the World Health Organization (WHO) and the International Association of Diabetes in Pregnancy Study Groups (IADPSG) diagnostic criteria. BMC Pregnancy and Childbirth, 12(23), 1 -13.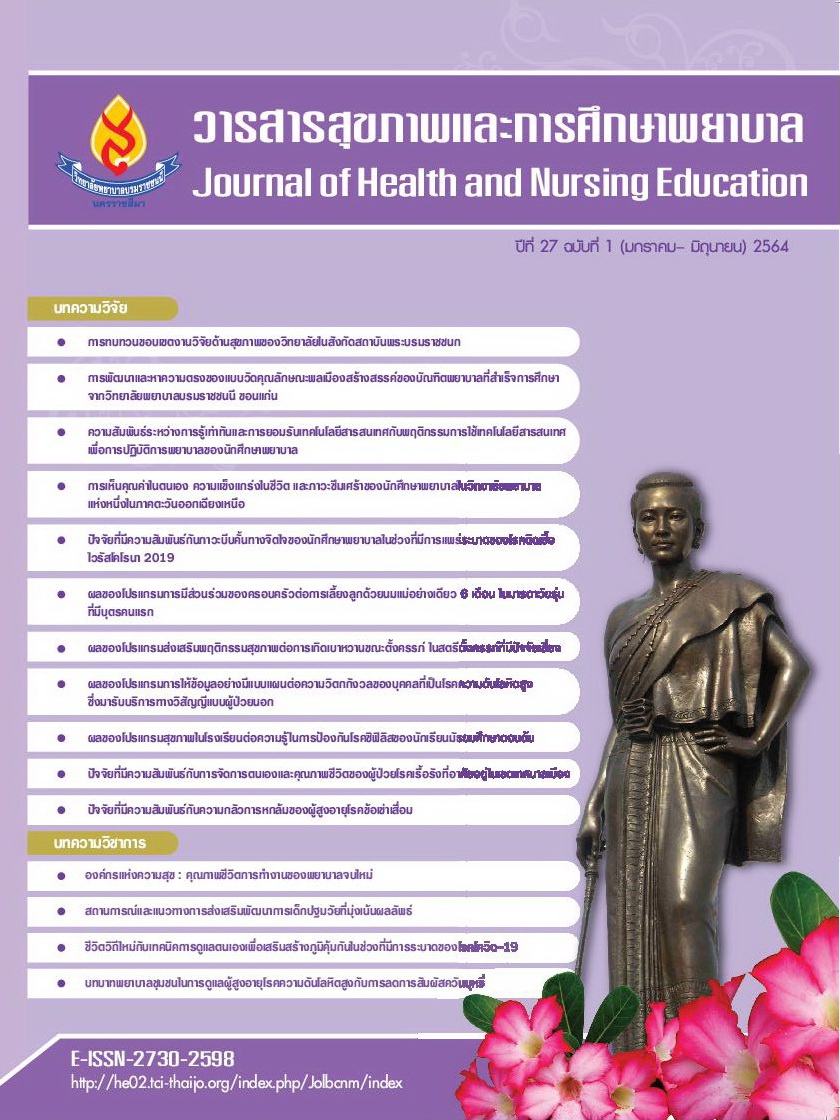 Downloads
Section
Research articles
License
บทความที่ได้รับการตีพิมพ์เป็นลิขสิทธิ์ของ วารสารสุขภาพและการศึกษาพยาบาล
ข้อความที่ปรากฏในบทความแต่ละเรื่องในวารสารวิชาการเล่มนี้เป็นความคิดเห็นส่วนตัวของผู้เขียนแต่ละท่านไม่เกี่ยวข้องกับกองบรรณาธิการวารสารสุขภาพและการศึกษาพยาบาล หรือวิทยาลัยพยาบาลบรมราชชนนี นครราชสีมา แต่อย่างใด ความรับผิดชอบองค์ประกอบทั้งหมดของบทความแต่ละเรื่องเป็นของผู้เขียนแต่ละท่าน หากมีความผิดพลาดใดๆ ผู้เขียนแต่ละท่านจะรับผิดชอบบทความของตนเองแต่ผู้เดียว